Learn More About Scams
Click here to access the FBI's Internet Crime Complaint Center IC3


---
Mortgage Letter NOT Sent by Profinium
6.7.2022 Update:
It has come to our attention that a letter is being sent to community members regarding their mortgage.
At first glance, it appears that it may have come from Profinium. This letter DID NOT come from Profinium. We have received a copy of the letter and have included a sample below for you to review.
Also, it is very important to note that the mortgage information listed in the letter did NOT come from Profinium. Mortgage information is available publicly to any who knows where to find it. We are unable to confirm if this is 100% a scam so please use caution if you inquire about this letter.
If you have questions please do not hesitate to call your banking team.
SAMPLE LETTER: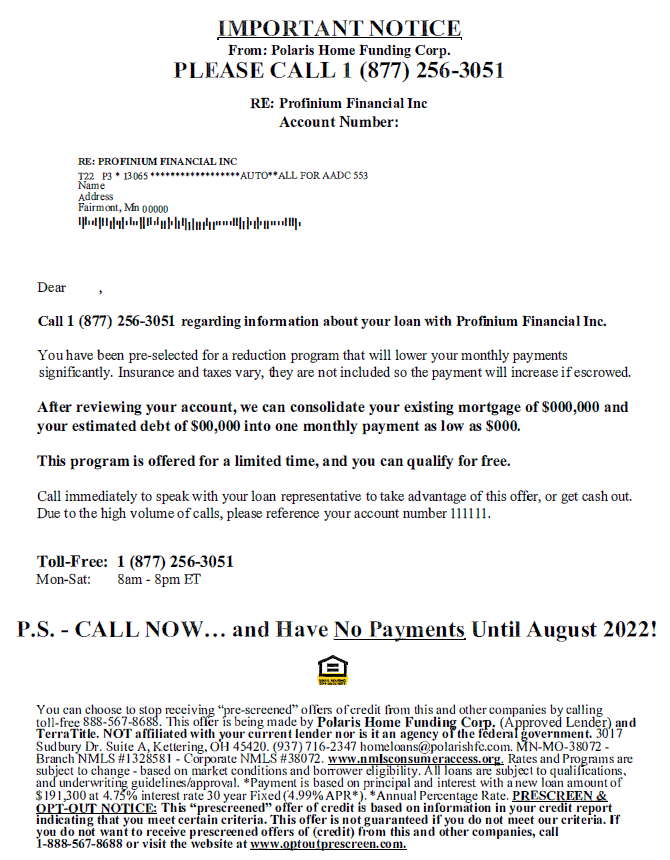 Multi Factor AuthorizationScam - Watch how it works.
---
IRS Scam
Updated 2.2022
As tax season begins, the IRS is reminding everyone to watch out for IRS impersonation scams. The IRS will not send text messages or email to contact taxpayers about personal or financial information. The IRS also does not leave pre-recorded, urgent or threatening telephone messages for taxpayers. Below is a link with a lot of good information about IRS related scams.
---
Check Depositing Scam
Updated 9.2021
We've seen an influx in customers depositing checks that they've received in the mail that they were not expecting or aware they would be receiving. The most recent one was a customer asked to buy gift cards and then send the serial numbers to the check sender.
What the scammer is trying to do is get you to cash the check and then have you send them the cash. When checks are presented to a bank, each check goes through a clearing house to verify the check is good/valid. By the time the check goes through this process and comes back as fraudulent the scammer is long gone with the cash. You, as the person that cashed the check, are now on the hook for the cash.
Here are some questions to ask yourself:
Was I expecting the check?

Example, you receive an insurance claim check but you do not have a claim going with your insurance company.

Do I know who sent this check?
Am I being asked to send money or gift cards back to the sender?
Does it seem too good to be true?
If you are not expecting a check or you are suspicious about a check, do not cash the check until you talk to a representative at your bank.
---
Elder Fraud
We have seen an uptick in elder fraud lately. According to the Federal Bureau of Investigation and the Internet Crime Complaint Center (IC3), elder fraud is defined as financial fraud scheme which targer or disproportionately affects seniors.
Common Elder Fraud Schemes Include: Click here to review descriptions of the schemes listed below.
Romance Scam
Tech Support Scam
Grandparent Scam
Government Impersonation Scam
Sweepstakes/Charity/Lottery Scam
Home Repair Scam
TV/Radio Scam
Gamily/Caregiver Scam
Investment Scam
"What do I do if someone I know may have been a victim of elder fraud?"
File a complaint with the FBI's Internet Crime Complaint Center.
www.ic3.gov
An additional resource created by the U.S. Department of Justice (DOJ), Office for Victims of Crime, is the National Elder Fraud Hotline and can be reached at (833) 372–8311.
---
Postcard Scam
Updated: 4.2021
We have been made aware of a postcard scam asking customers to call a number about a time-sensitive matter on their mortgage. These postcards (which come in a variety of colors) are being sent to consumers all around the country.
Please be aware that this is a scam and did not come from Profinium, or any financial institution. There is a small disclaimer in the bottom right corner indicating the sender is "not affiliated with, sponsored by, and loan information not provided by Profinium." It does further state that the information was provided by "H. W. C." We advise you to NOT call the number and discard the postcard.
REMINDERS:
We're committed to protecting our customer's personal information. We would never send a postcard in regards to account information/requests. Likewise, we do not sell or otherwise distribute it to non-affiliate third parties.
Note, some information about mortgages, regardless what lender the consumer works with, is public record. That's how scammers may obtain contact information. Do note that the account number listed does not match the client's actual account number.
---
Fraudulent Calls
It has come to our attention that community members are getting phone calls from hackers posing as their bank. The thief will ask for personal information such your social security number and/or account numbers. As a reminder, at Profinium we will never call and ask for such personal information. If you recieve a call like this please do not share your personal information.
---
Fraudulent E-mails/Pfishing Schemes
We have received a few calls from customers regarding suspicious emails they've received. Please be aware that there are phishing schemes involving emails that appear to be from IRS.gov, NACHA.org. as well as FDIC.gov. Here is some information that may be beneficial to you, our valued customers:
From IRS.gov website:
The IRS never sends out unsolicited emails, and under no circumstances, requests credit card information and pin numbers through email. Persons receiving emails that claim to be from the IRS should not attempt to visit any site contained within the email and should report suspicious emails to TIGTA or IRS.
Please notify the IRS of any phishing attempts by forwarding the suspicious e-mail to [email protected]. Materials forwarded to this mailbox will be examined and acted on by our information security staff.
Multi Factor Authorization Scam - Watch how it works.