Today, like every day — you choose.
You pass through life once - fast. 
Leave your mark - make a difference- pursue the best of your abilities.
Do something so meaningful, with such conviction and skill, that it transforms peoples' lives.
Commit yourself to deliver the common, every things - Extraordinarily.
A vision fed by sacrifice, innovation and collaboration paves the road to a dream. 
Don't settle. Accept the challenge. Make the sacrifice. Be Legendary.
Give more than you ever imagined possible. 
Be more than you ever imagined. 
Believe in Yourself.
This is what we believe - Your AMAZING is Possible.
OUR PURPOSE
Achieving Dreams Together
OUR CORE VALUES
People First
Teamwork
Confidence
Accountable
Excel
OUR PURSUITS
Cultivating

excellence 

Inspiring

a fun environment

Delivering

a legendary experience 

Vested in our communities

' success
Let's take a closer look at how we will deliver on our
purpose of achieving dreams together.
Our Pursuits
Cultivating excellence by challenging ourselves with courage and confidence.
Inspiring a fun environment where innovation thrives, mentoring is essential, and our journey is celebrated.
Delivering a legendary experience through our unrivaled service and empowering solutions.
Vested in our communities' success with leadership, resources and time.
---


2023 Community Service Award Winners
Each year, Profinium recognizes team members who exemplify our Pursuit to be "Vested in our communities' success with leadership, resources, and time." A special donation of $100 is given to an organization of the team member's choice.
For the first half of 2023, Profinium would like to recognize Paul Osdoba, Kirsten Sommers, and Ian Bents. 
Paul donated the majority of his time & talents in 2022 to Greater Mankato Area Rotary Club helping as Board Member, President Elect, and Membership Chair.




Served on various committees for Greater Mankato Growth - including Grant Application Reviewer for Region 9 & Education Committee for employee training.

Board member for Good Council Learning Center, offering one on one tutoring for children & adults to learn the English language & other educational skills. 

Lastly, he was a Member & Secretary for Fermental Brew & Wine Club of Waseca.  This organization brews beer & wine, donating the products to charitable causes for local fundraisers.
Kirsten has been very active in the Waseca community, serving on multiple organizations.

Served as head coach for the Waseca Community Education Minor League Baseball, coaching 6-8 year-olds the fundamental skills & rules of baseball/softball.

T-Ball Head Coach for Waseca Community Education T-Ball, coaching 4-5 year-olds.

Volunteered many hours for the Waseca Hockey Association in various functions, including assisting 3+ year

old kiddos

with the fundamentals of skating & learning basic hockey skills. 

Kirsten was the Treasurer for the Waseca County America Dairy Association & volunteered many hours for various events in Waseca County by promoting the dairy industry to various age groups.

Lastly, she volunteered her time at various events with Sacred Heart School.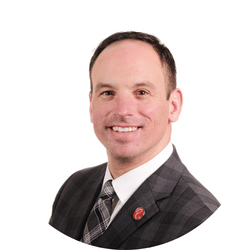 Ian has spent many years making an impact for the Fairmont Baseball Community. 

Coaching the 13U Fairmont/Northrop Junior Martins Baseball Team, as well as serving on the Fairmont Baseball Association board. 

Served as Director & Coach for Kiwanis Baseball.

Volunteered many hours as a coach for the Fairmont Hockey Association.

Lastly, he served as Board Member for Mayo Community Board & Credit Committee Member for Fairmont MN Economic Development (FEDA).
---
Have an event you would like us to sponsor or would like us to consider your organization for our next round of donations? 
We love strengthening our communities and can't wait to hear about your organization.
"It's not the events of our lives that shape us, but our beliefs as to what those events mean."
~Tony Robbins
---
Our story starts back in 1875, only seventeen years after Minnesota became a state. Locally owned and managed for 148 years, we've lived, worked, thrived, struggled, rejoiced, mourned, and succeeded in our communities. In 2003, we merged two banks and formed one identity… Profinium (PROfessional FINancial solutions for the new MillennIUM).
Something profound began at Profinium in 2008. You were struggling during the tough financial times of the Great Recession — and so were we.
We certainly weren't the only business taking this journey at that time, but we took a different path. We decided it was an opportunity to test our resilience, adapt, and innovate.
We were going to make Profinium a place people want to come, not just their bank, but something more, something inspirational, something life-changing in the midst of very hard times. We took a stance against boring banking!
We knew that we could see our way through this because we had a new attitude driving us, "Achieving Dreams — Together." We created a roadmap for achieving our dreams and the dreams of our clients. We followed through every day by taking specific action steps — like a commitment to creating a legendary experience for clients, providing unrivaled service, and improving our technology.
And it worked.
After making it through the darkest days of the economic crisis and helping our clients do the same, it was time to take another look at our story. How could we improve upon our promises? How would we incorporate what we learned?
Our new tagline became, "Amazing IS Possible". We can do this… together. You have dreams. We have the expertise to help you achieve them. It's truly amazing what we can accomplish when the vision is clear and a plan is in place.
We're so thankful to our clients and communities, that you've joined us on this journey, and that we get to be part of your lives.
We've had highs and lows over 140 years. We've struggled and succeeded; but like you, we keep growing and learning. We know how to be successful and produce results. We dare to dream and know how to bring those dreams to life.
Amazing is possible. Won't you join us?